Last night's Met Gala (my favorite fashion event of the year) featured an edgier theme than in years past in honor of the new "PUNK: From Chaos to Couture" exhibit opening on May 9, and it seems that the majority of stars didn't quite get what it was all about. Punk clothing "was a raised middle finger to the long legacy of the uniform," said a recent feature in the New York Times, but the outfits on the red carpet were mostly devoid of that anarchy. Everyone wanted to stand out and not many were willing to look ugly.
The exhibit takes a look at the intellectual and artistic side of punk clothing, from its beginnings rooted in deconstruction and individuality in the '70s and its evolution into sort of a uniform itself, to how it influenced and evolved within the fashion industry. Being a star-studded event with photographs to be seen by millions, I wasn't expecting Sex Pistols T-shirts and a plethora of safety pins, but I was hoping to see the usual famous faces make an unusually risky effort. Some people played it safe, some tried too hard, and some had just the right mix of rock and glamor. (Runway photos linked where I could find them.)
Miley Cyrus wearing a Marc Jacobs dress and Eddie Borgo jewelry
Let's start off funky. This fishnet column dress is fantastic, with the right amount of punk and sparkle mixed with a classic red lip. As a friend said, her hair looks like a Sim after it's been electrocuted, but since she chopped it all off Miley has consistently shown she does not give a single fuck what you think. I can get down with that.
Kate Bosworth wearing a Balmain dress and Christian Louboutin shoes
Hot metallic pink isn't usually my go-to color, but I like that she darkened it a bit with black accessories. The runway version does not have the gold belt, but I'm glad she added it because it makes the look.
Anne Hathaway in vintage Valentino
After "snubbing" the designer at the Oscars so she could wear the infamous Prada nipple dress, she predictably went back to Valentino this time around. Pretentious snobbery aside, I'm loving the short blonde 'do with a dress from 1992 that looks like it's ripped to shreds, A+ sideboob as well. And who doesn't need some feather accents every now and then?
Katy Perry in Dolce & Gabbana
I almost didn't include Katy because it does seem like a case of trying too hard, but the longer I looked at her "Joan of Arc" outfit the more I loved it, plus she's rocking some fabulous curls. The metallic, Sicilian mosaic-inspired dresses in this collection aren't easy to pull off, but maybe after years of whipped cream bras and candy-hued latex onesies, it's just nice to see her in this color palette.
Florence Welch in Givenchy Haute Couture
I had a feeling she'd go Givenchy after she helped design that dinosaur dress for the Grammys (and creative director Riccardo Tisci's Fall 2013 collection is so utterly punk-inspired and right up her alley…  oh yeah, did you know he's also the co-chair of the Met Ball?). Yes, I'm in the minority here I'm sure, but black fringe, leather, fiery hair – flawless.
Rooney Mara in custom Givenchy
I rarely dislike anything she wears. I love that the gold zippers counteract the softness of the white lace, getting in with the theme without being obvious. One of these days I'll be brave enough to wear this lipstick.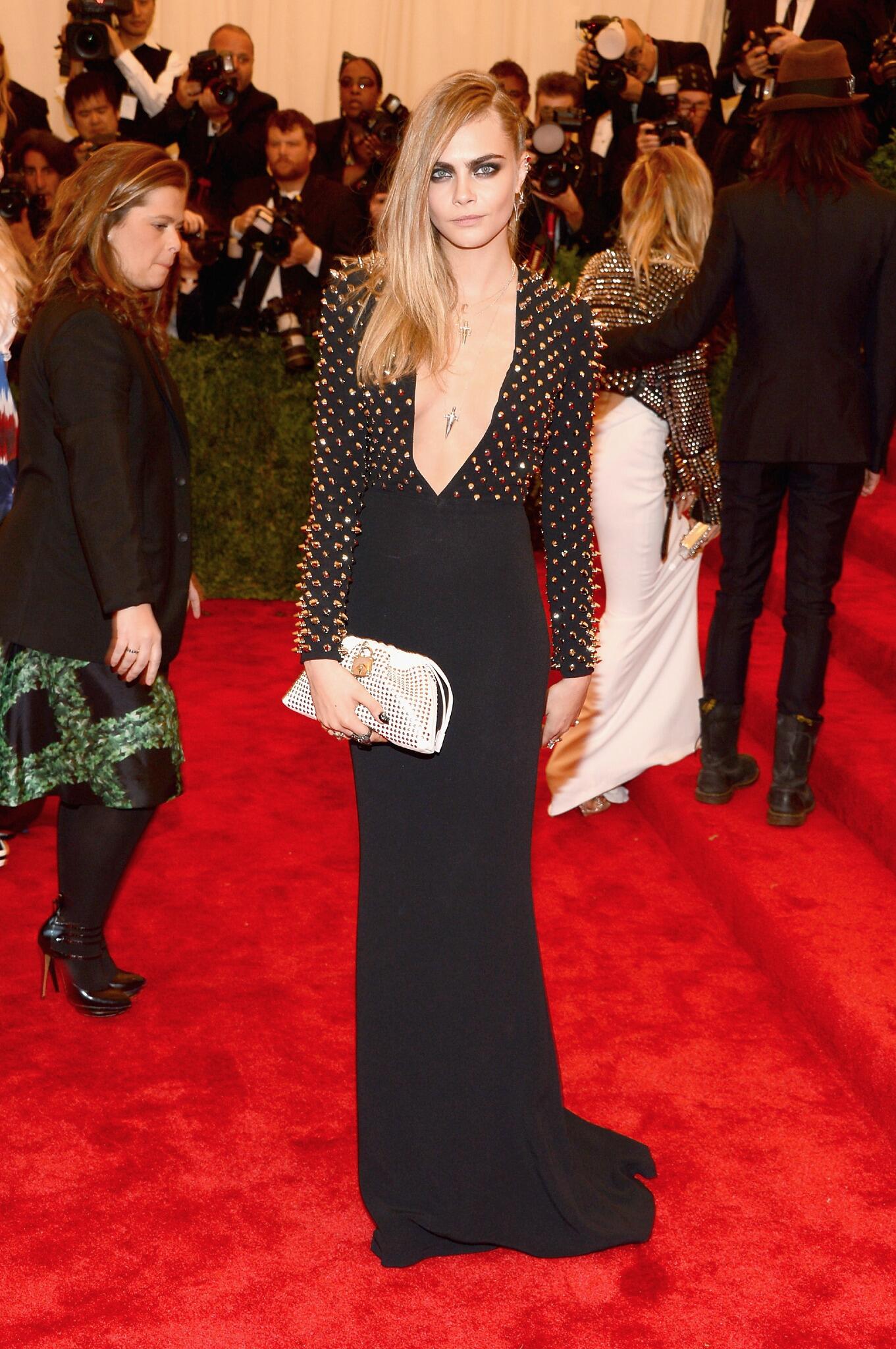 Cara Delevingne in custom Burberry
HOT.
January Jones in Chanel Haute Couture and Nicholas Kirkwood
And my Best Dressed of the evening goes to January Jones, who I've been keeping an eye on since she went Bowie at the SAG Awards (and clearly decided to continue). Everyone's makeup was absolutely terrible tonight (I don't even want to discuss Elle Fanning) but this was just so awesomely unconventional and unexpected, it made perfect sense and turned a simple sequin dress into a complete glam-punk outfit. Punk styling is often seen with both highly emphasized, soft and hard elements. Tonight was about breaking away from your norm and she really nailed it.
All in all, plenty of couture, not enough chaos. Who were your best dressed picks?